Discover Unforgettable Deep Sea
Fishing Adventures in Panama City Beach
At Reel Screamer Charters, we're not just offering a fishing trip; we're inviting you to a thrilling adventure on the pristine waters of Panama City Beach. Our passion for the sea and dedication to providing exceptional deep sea fishing experiences have made us a preferred choice for novice and seasoned anglers.
In the heart of Florida's Emerald Coast, Panama City Beach offers some of the most spectacular fishing opportunities in the Gulf of Mexico. With Reel Screamer Charters, you'll embark on an unforgettable journey to reel in a diverse array of prized fish, from the mighty Red Snapper to the elusive Tuna, all in the stunning backdrop of crystal-clear waters and picturesque skies.
Our experienced and friendly crew, led by seasoned captains, is committed to ensuring your safety and enjoyment at every turn. Whether you're planning a family outing, a corporate event, or a solo expedition, we're here to make your deep sea fishing experience nothing short of extraordinary.
Join us at Reel Screamer Charters for a day filled with excitement, memorable catches, and stories you'll cherish forever. Let's cast off into the deep blue and experience the best fishing that Panama City Beach has to offer!
Your Gateway to Premier Deep Sea Fishing Excursions
At Reel Screamer Charters, we specialize in various deep sea fishing expeditions tailored to satisfy the desires of any angler. Our charters are designed to offer you the best of Panama City Beach's fishing experience, whether you're looking for a relaxing day on the water or an intense fishing challenge.
Diverse Fishing Expeditions
Dive into the excitement of bottom fishing, where you can target various species dwelling near the ocean floor. This type of charter is perfect for those who enjoy a more relaxed fishing style yet still crave the thrill of a big catch. Expect to reel in Snappers, Groupers, and Amberjacks, among other prized species.
Our trolling charters offer a dynamic fishing experience for those who love the chase. We navigate the waters of Panama City Beach, tracking the movements of fast-swimming species. This is your chance to catch Spanish Mackerel, King Mackerel, and even the occasional Wahoo or Cobia.
Adrenaline seekers will relish our shark fishing charters. These trips are a unique opportunity to test your skills against some of the ocean's most formidable predators. Whether you're an experienced angler or trying shark fishing for the first time, this adventure promises to be exhilarating.
A Rich Variety of Target Species
Panama City Beach waters are teeming with a myriad of fish species, making every trip with Reel Screamer Charters a potential treasure trove of catches. We commonly target species like Red Snapper, known for its fighting spirit and delicious taste, and Grouper, a favorite among deep sea fishing enthusiasts. For those seeking a unique challenge, the elusive Tuna awaits, offering both a test of skill and a rewarding catch.
With Reel Screamer Charters, every expedition is more than just fishing. It's an opportunity to connect with the sea, experience the thrill of the catch, and create lasting memories. Our charters are equipped with top-quality gear, knowledgeable guides, and a commitment to providing a safe, enjoyable, and fruitful fishing adventure.
Experience Comfort and Safety Aboard Our Premier Fishing Charters
At Reel Screamer Charters, we understand that the quality of your fishing experience is directly tied to the quality of the vessel you're on. Our fleet is specifically designed to combine comfort, safety, and top-notch fishing functionality, ensuring an unparalleled deep sea fishing adventure.
Our Pledge to Ensure a Safe and Environmentally Responsible Fishing Experience
At Reel Screamer Charters, the safety of our guests and the sustainability of our fishing practices are at the forefront of everything we do. A great fishing experience can be achieved responsibly, ensuring our passengers' safety and marine ecosystems' health.
Unwavering Commitment to Safety
Certified and Trained Crew:
Our crew members are experienced fishermen trained in first aid and emergency response procedures. Their expertise ensures a safe and secure environment for all our guests.
Regular Safety Drills and Equipment Checks
We conduct regular safety drills and thorough checks of all safety equipment, including life vests, communication devices, and first-aid supplies, to ensure they are always in top condition.
Child-Friendly Safety Measures:
Understanding the importance of family experiences, we provide child-sized safety gear and briefings to ensure our youngest anglers are well-protected and informed.
Discover the Reel Screamer Charters Difference:
At Reel Screamer Charters, we're more than just another fishing charter company. We blend passion, expertise, and personalized attention to create a fishing experience that stands out in Panama City Beach. Here's why you should choose us for your next deep sea fishing adventure:
Sustainable Fishing Practices
We practice catch and release for non-target species and those not in season, helping maintain the marine ecosystem's natural balance.
Adherence to Regulations:
We strictly adhere to local and federal fishing regulations, including size limits and seasonal restrictions, to support sustainable fishing practices.
Our crew takes the opportunity to educate guests about sustainable fishing, the importance of conserving marine life, and how each person can contribute to a healthier ocean.
Eco-Friendly Operations
Minimizing Environmental Impact:
We are committed to minimizing our environmental footprint by using eco-friendly gear and practices, such as biodegradable lures, and reducing plastic waste on board.
Supporting Local Conservation Efforts
Reel Screamer Charters actively supports local conservation initiatives and participates in community programs to protect and preserve our marine environments.
At Reel Screamer Charters, we're dedicated to providing an exceptional fishing experience that is safe, enjoyable, and respectful of the marine world. We're passionate about the ocean and are committed to its stewardship, ensuring that future generations can enjoy the beauty and bounty of Panama City Beach's waters as we do today.
Comfortable Accommodations:
Our boats are designed for your comfort, featuring air-conditioned cabins, clean restrooms, and ample seating areas for relaxation and dining.
Commitment to Safety and Sustainability
Safe and Secure:
Your safety is our priority.
Our Charters are equipped with the latest safety gear, and our crew is trained in emergency response, ensuring a safe environment for all our guests.
Environmentally Conscious: 
We practice sustainable fishing to protect the marine ecosystem, ensuring that the beauty and bounty of Panama City Beach's waters are preserved for future generations.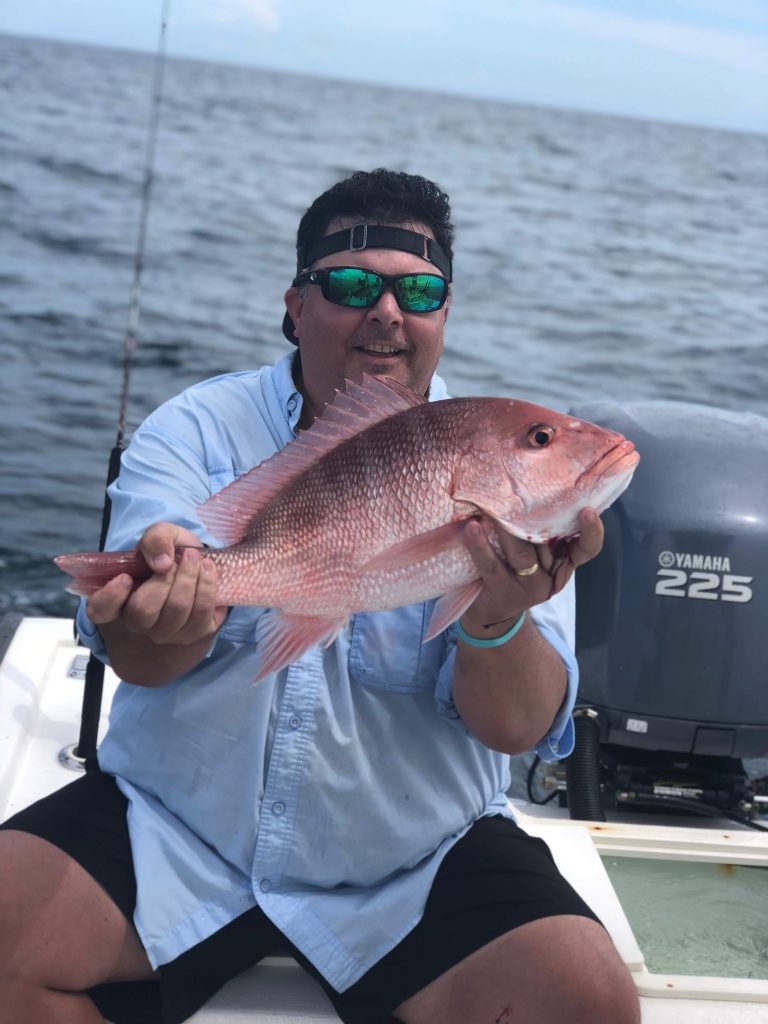 Experienced and Knowledgeable Captains
Our captains are seasoned veterans of the sea, boasting years of experience navigating the waters of Panama City Beach. They bring a depth of knowledge about local fishing spots, ensuring you're in the right place at the right time for the best catches.
We understand that every group has different needs and preferences. Our captains are adept at tailoring the experience to suit your level of expertise, from beginner anglers to seasoned pros.
Customizable Charter Options.
Whether you're looking for a half-day family outing or a full-day deep sea fishing expedition, we offer a range of customizable charter options to fit your schedule and fishing goals.
Variety of Fishing Styles:
From bottom fishing to trolling and shark fishing, our charters cater to various fishing interests and techniques, ensuring a diverse and enjoyable experience for everyone on board.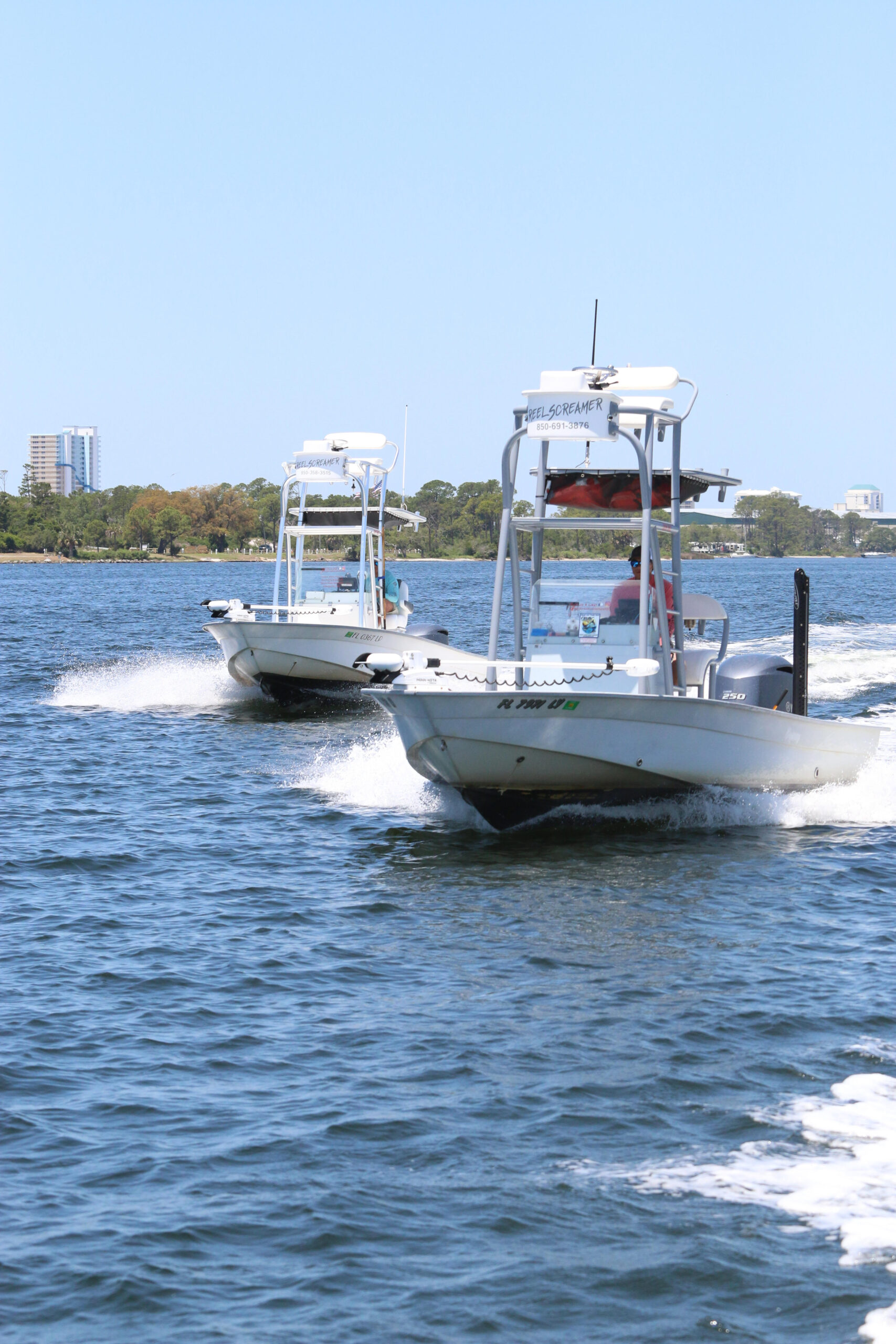 Exceptional Amenities for a Comfortable Trip
Proven Track Record of Exceptional Service
High Customer Satisfaction:
Our high customer satisfaction ratings and glowing testimonials reflect our commitment to excellence. We pride ourselves on delivering a memorable and rewarding fishing experience that keeps our guests returning.
Choose Reel Screamer Charters for a fishing adventure that combines the thrill of the catch with the peace of mind of a well-planned, safe, and environmentally responsible trip. Let us show you why we're the preferred choice for deep sea fishing in Panama City Beach.
We equip our charters with the latest fishing gear and technology, making your fishing experience productive and enjoyable.
Secure Your Unforgettable Fishing Adventure with Ease
Booking your deep sea fishing charter with Reel Screamer Charters is simple. We're committed to making the process as hassle-free as possible so you can focus on the excitement of your upcoming fishing adventure.
Phone: 
Call us directly at (850) 691-3876. Our friendly staff is on hand to assist you with your booking and answer any questions.
Email: 
Would you prefer to communicate via email? Send us your inquiry at info@reelscreamercharters.com, and we will reply promptly.
Online Form: 
Visit our website and fill out the booking form. We'll confirm your reservation and provide all the necessary details.
Direct Contact with the Captain:
For a more personalized booking experience, you can speak directly with our captain. They can provide expert advice on the best charter options for your group and ensure that all your specific needs are met.
Call for more info now!
850-691-3876
FACEBOOK
(850) 691-3876
info@reelscreamercharterspcb.com